Description
Properties
3D Printing
| | |
| --- | --- |
| Extrusion T° | 200 – 230 °C |
| Plate T° | 50 – 70 °C |
| Enclosure T° | 20 °C |
| Buse (minimum) | 0.5 mm |
| Printing speed | 20 – 60 mm/s |
| Diameter | 1.75 & 2.85 mm +/- 50µm |
| Colours | Native (brown), Black |
Mechanical properties
| | |
| --- | --- |
| Density | 1.25 g/cm3 (ISO 1183) |
| Tensile modulus | 3400 MPa (ISO 527) |
| Flexural modulus | 2300 MPa (ISO 178) |
| Elong. at break | 2.0 % (ISO 527) |
| Hardness | 77 Shore D |
Thermal properties
| | |
| --- | --- |
| Tg | 55 – 60 °C |
| DTUL | 50 °C |
| Melt Flow rate (MFR) | 7 – 9 g / 10 min (ISO 1133) |
| HDT B (0.45 MPa) | 80 – 90 °C (E2092) |
Documentation
Download the technical chart
Download the security chart
Combining PLA's ease of printing with flax fibers' mechanical properties, Nanovia PLA Flax will allow you to create mechanical 3D prints with ease.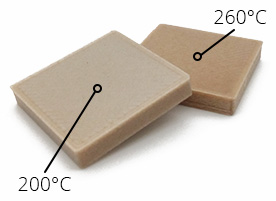 Alter Nanovia PLA Flax's colour by changing the extrusion temperature of your printer.
This biosourced composite 3D filament, certified endocrine disruptor free, can be browned by varying the printing temperature up to 260 °C.
Nanovia's PLA Flax's fibers are harvested and transformed in France, specially selected for additive manufactoring. The organic look of this filament makes it ideal for decorative objects and toys.
Nanovia PLA Flax is also availble in pellet form for injection molding and 3D pellet printing.
Advantages:
Easy to print
Biocourced and biodegradable
Certified endocrine disruptor free
User photos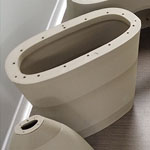 Moulding master for a kayak 3D printed using Nanovia PLA Lin Flax created by – Compositic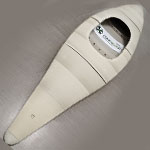 Moulding master for a kayak 3D printed using Nanovia PLA Lin Flax created by – Compositic
Mandala printed using Nanovia PLA Flax – created by Co.ben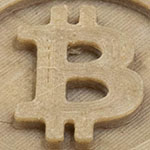 Bitcoin printed using Nanovia PLA Flax – created by Co.ben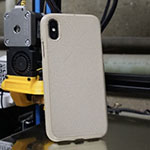 Coque de téléphone en Nanovia PLA Lin – crée par Nycko77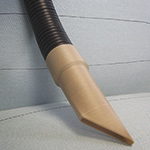 Fine nozzle for vacuum cleaning between car seats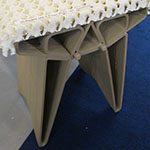 3D printed stool – by IRMA
Application recommendations
Storage
Store Nanovia PLA Flax in a dry and dark location, if possible with a desiccant.
In order to guarantee good printing conditions dehydrate Nanovia PLA Flax at 50 °C for 4 hours or longer, when the spools has been exposed to moisture for an extended period.
Printing
Extrusion temperature : between 200 and 230 °C
Heated bed temperature : between 50 and 70 °C
Post treatment
For an outdoor usage, we recommend that you paint your print or submit them to an anti UV treatment, such as our Nanovia smoothing solution.
Health and safety
Printing
We recommend printing Nanovia PLA Flax in a room equipped with air extraction or by using appropriate breathing equipment.
Post treatment
We recommend wearing standard safety equipment during the post treatment of your prints made with Nanovia PLA Flax.
Endocrine disruptor test:

1 Method OEDT – SERPBIO Laboratory. Sample : NANOVIA 3D filament PLA Flax.
Study: Measuring the activity of the human estrogenic receptors expressed in S. cerevisiae (SW303.1B)
Every measurement is reproduced 3 times independently with the different contents of the tested sample
Results: The obtained data shows that the tested product does not influence the measured activity
Note on the ratio of circulating plasmic œstradiol: With menopaused women / with men: * [4×10-11M – 2×10-10M] with pre menopaused women (excluding ovulation): [1×10-10M – 5×10-10M] / with women (ovulation): [2×10 -9m] * a value is considered critical when it exceeds [2×10-11M].
CONCLUSION: The tested material can be considered absent of endocrine disruptors.
Certifications
Certification RoHS Nanovia PLA Flax :
Packaging
Spools are packed in individual boxes, sous-vide with desiccant. Spools are equipped with both a material traciblity and a production series number.
Other sizes available up to 25kg on demand.
| | | | | | | |
| --- | --- | --- | --- | --- | --- | --- |
| Spool | L1 | L2 | D1 | D2 | D3 | Weight |
| 500g | 53 | 46 | 200 | 90 | 52 | 182 g |
| 2kg | 92 | 89 | 300 | 175 | 52 | 668 g |
Links
Ultimaker Cura slicer material profile: Link

Exemple fourni par notre partenaire la société NRHK au Japon, dédié a l'étude et la conservation de l'art, l'histoire et la culture japonaise