Description
Properties
3D Printing
| | |
| --- | --- |
| Extrusion T° | 170 – 190 °C |
| Plate T° | 40 – 60 °C |
| Enclosure T° | 20 °C |
| Nozzle (minimum) | 0,6 mm |
| Printing speed | 20 – 40 mm/s |
| Extrusion debit | 115 % |
| Diameter | 1.75 & 2.85 mm +/- 50 µm |
| Colour | Dark gray |
Mechanical properties
| | |
| --- | --- |
| Density | 7.19 g/cm3 (ISO 1183) |
| Masse / vol. concentration | 88 % / 54 % |
| Shrinkage after sintering | 10 – 15 % |
Documentation
Download the technical chart
Download the security chart
Printable using standard 3D FFF printers and not brittle in its filament form, create stainless steel (316L grade) pieces using our new Nanovia Mt Inox 316L filament.
Thanks to its patented formula, the printed parts can be directly sintered without any chemical debinding steps beforehand.
Before sintering, it's possible to apply standard post treatment much like a plastic 3D prints, even tool the piece without requiring any specialized equipment.
After sintering you'll be left with a 100% stainless steel part.
Avantages:
Create metallic parts with all the advantages of 3D printing techniques.
Easy post treatment before sintering.
No chemical debindings tep before sintering.
An alternative/complement to traditional substractive prodution methodes.
Application recommendations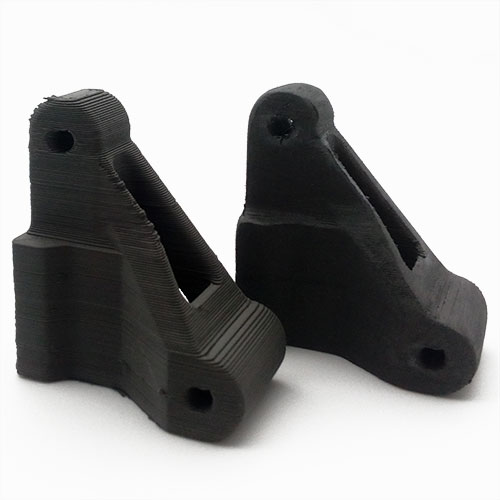 Storage
It's recommended to store Nanovia Mt 316l in a dry location
Pour assurer une parfaite impression, il est conseillé d'étuver votre filament à 60 °C pendant 6h ou plus, lorsque la bobine a été exposée à l'air libre pendant une longue période.
Printing
With it's close to standard printer settings, Nanovia MT Inox 316l is useable on most commercially available 3D FFF printers.
Extrusion temperature : 170 à 190 °C
Plate temperature : 40 à 60 °C
In order to protect your equipment we recommend using a nozzle adapted for abrasive materials.
Post treatment
It's possible to apply tradional post treatment methods on the green (not yet cintered) 3D printed pieces, such as sanding, polishing, tapering, drilling, tooling etc…

Sintering
The sintering of Nanovia Mt Inox 316L happens in two consecutive steps :
Debinding on a relative low temperature around 400 °C
Sintering at 1180°C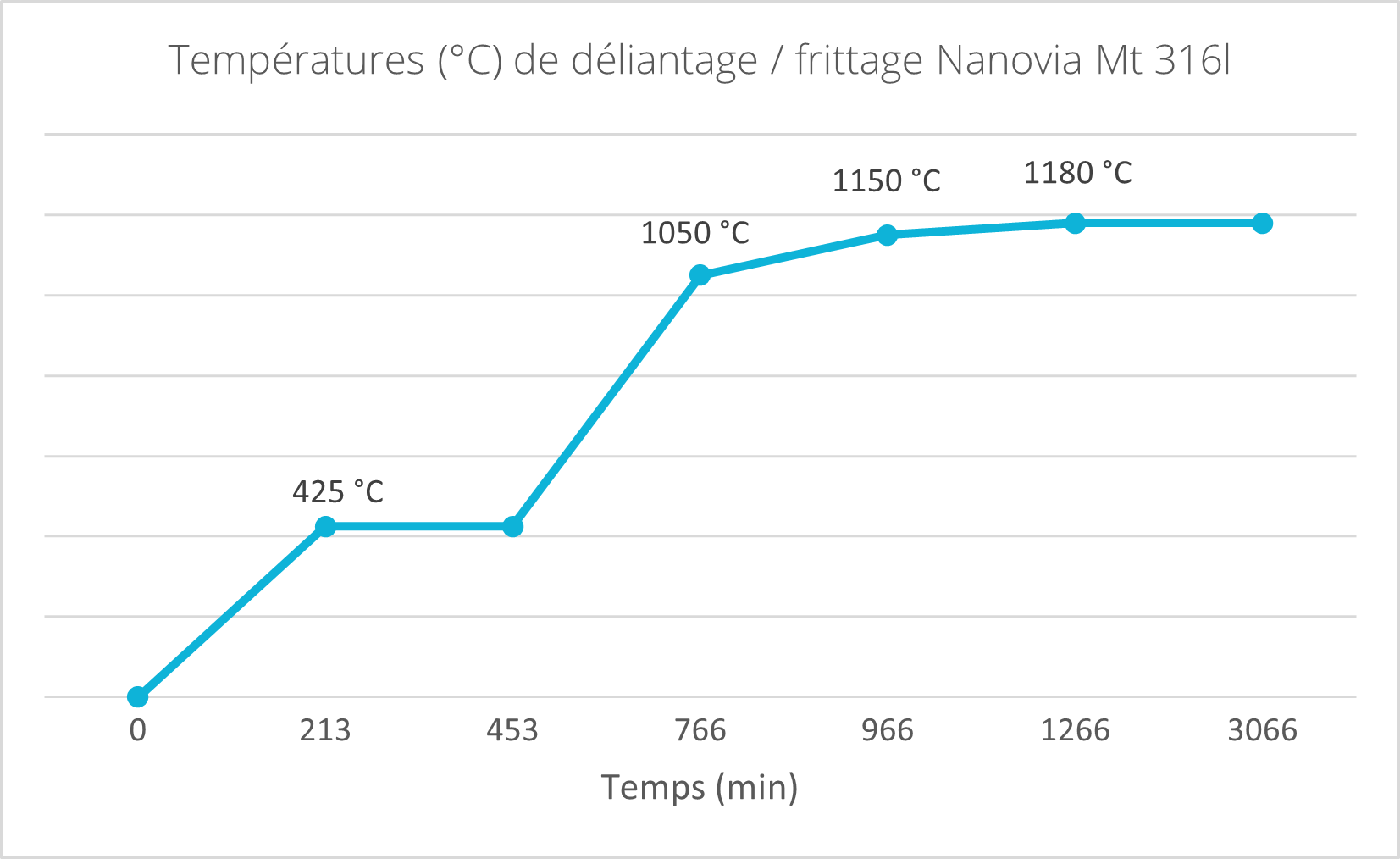 | | | | | | | |
| --- | --- | --- | --- | --- | --- | --- |
| Temperature (°C) | 0 – 425 | 425 | 425 – 1050 | 1050 – 1150 | 1150 – 1180 | 1180 |
| Time (min) | 213 | 240 | 313 | 200 | 300 | 1800 |
It's possible to sinter Nanovia Mt in an SDS sintering oven.
It is required to bury / cover the green parts in alumina powder filled crucible during the thermal debinding phase.
Add a fine layer of carbon powder to capture the released oxygen, or sinter using an inert atmosphere such as argon.
Health & safety
Sintering
Please refer to the product's MSDS, as well as your sintering oven's manuel.
Certifications
Certification RoHS Nanovia Mt 316l :
Packaging
Spools are packed in individual boxes, sous-vide with desiccant. Spools are equipped with both a material traciblity and a production series number.
| | | | | | | |
| --- | --- | --- | --- | --- | --- | --- |
| Spool | L1 | L2 | D1 | D2 | D3 | Weight |
| 500g | 53 | 46 | 200 | 90 | 52 | 182 g |
| 2kg | 92 | 89 | 300 | 175 | 52 | 668 g |