Description
Properties
3D Printing
| | |
| --- | --- |
| Extrusion T° | 230 – 250 °C |
| Plate T° | 90 – 110 °C |
| Enclosure T° | 90 °C |
| Nozzle (minimum) | All |
| Printing speed | 60 mm/s |
| Diameter | 1.75 or 2.85 mm +/- 50 µm |
| Colour | White |
Mechanical properties
| | |
| --- | --- |
| Density | 1.04 g/cm3 |
| Tensile modulus | 1950 MPa (ISO 527-2) |
| Tensile elongation at break | 60% (ISO 527-2) |
| Flexural modulus | 1850 MPa (ISO 178) |
| Charpy (notched) | 11 kj/m² (ISO 179/1eA) |
Thermal properties
| | |
| --- | --- |
| Tg | 100 °C |
| HDT 1.8 MPa | 74 °C (ISO 75-2A) |
Download the technical chart
Download the security chart
Nanovia HIPS is characterized by its thermal and mechanical, thermal, and shock resistant properties. Its viscosity allows for smooth and precise 3D prints.
Nanovia HIPS can also be used as both a support, and raft material. Competible with most materials it allows for the easy removal from the 3D printer bed and is soluble in limonene, an extract of essential citrus oils.
Advantages:
Shock resistant
Soluble in limonene
Easy to print
Good heat resistance
User photos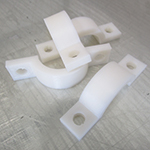 Cable / pipe wall attachment printed using Nanovia HIPS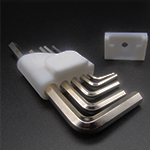 Hex key holder with clips, printedd using Nanovia HIPS
Application recommendations
Storage
Store Nanovia HIPS in a dry and dark location, if possible with a desiccant.
In order to guarantee good printing conditions dehydrate Nanovia HIPS at 60 °C for 4 hours or longer, when the spools has been exposed to moisture for an extended period.
Printing
Small parts are printable without an enclosure.
Extrusion temperature : between 230 and 250 °C
Heated bed temperature : between 90 and 110 °C
Enclosure temperature: 90 °C
Post treatment
For an outdoor usage, we recommend that you paint your print or submit them to an anti UV treatment, such as our Nanovia smoothing solution.
Nanovia HIPS used as a support material can be removed manually or dissolved using limonene.
Health and safety
Printing
We recommend printing Nanovia HIPS in a room equipped with air extraction or by using appropriate breathing equipment. Whilst printing HIPS produces a VOC derivative
Post treatment
We recommend wearing standard safety equipment during the post treatment of your prints made with Nanovia HIPS.
Certifications
Certification RoHS Nanovia HIPS :
Packaging
Spools are packed in individual boxes, sous-vide with desiccant. Spools are equipped with both a material traciblity and a production series number.
Other sizes available up to 25kg on demand
| | | | | | | |
| --- | --- | --- | --- | --- | --- | --- |
| Spool | L1 | L2 | D1 | D2 | D3 | Weight |
| 500g | 53 | 46 | 200 | 90 | 52 | 182 g |
| 2kg | 92 | 89 | 300 | 175 | 52 | 668 g |