Description
Properties
3D Printing
| | | | |
| --- | --- | --- | --- |
| Extrusion temperature | 360 – 400 | °C | |
| Plate temperature | > 150 | °C | |
| Enclosure temperature | > 120 | °C | |
| Nozzle (minimum) | 0.5 | mm | |
| Diameter | 1.75 & 2.85 | mm | +/- 50 µm |
| Colour | Black | | |
Mechanical properties
| | | | |
| --- | --- | --- | --- |
| Density | 1,27 | g/cm3 | ISO 1183 |
| Tensile modulus | 4685 | MPa | ISO 527 |
| Flexural modulus | 4950 | MPa | ISO 527 |
| Elongation at break | 3.5 | % | |
Thermal properties
| | | | |
| --- | --- | --- | --- |
| Fusion Point | 370 | °C | |
| VICAT A/50 | > 215 | °C | |
| Flamability | V-0 | at 3mm | UL 94 |
| HDT 0.45 MPa | > 200 | °C | ISO75Be |
Documentation
Download the technical chart
Download the security chart
last updated : 08/03/2023
Develloped based on Ultem 1010 PEI, Polyetherimide, and carbon fibres, Nanovia PEI CF is a composit filament more rigid than native PEI (Young's modulus 4285 MPa verus 3200 MPa), which benefits from better dimensional control and stability.
It's useable temperature up to 200 °C and its UL-V0 certified non-flamability make it an ideal material for components that should not deform under stress and extreme heat.
Chemically inert, Nanovia PEI CF is applicable to the most extreme environments.
Advantages
Usable temperatures up to 200 °C
High thermal stability
Improved rigidity over native PEI
Useable for autoclave sterilisation
Gamma ray resistant
Solvent resistant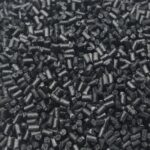 Nanovia PEI CF is also available in pellet form for plastic extrusion and FGF 3D printing.
Application recommendations
Storage
Store in airtight container with desiccant, out of direct sunlight.
Dehydrate for 6h at 110°C prior to printing after prolonged exposure to humidity.
Printing
Extrusion temperature : between 380 and 420 °C
Heated bed temperature : > 140 °C
Enclosure temperature : > 120 °C
A reinforced nozzle, suitable for abrasive materials is recommended.
Health and safety
Printing
We recommend printing Nanovia PEI CF in a room equipped with air extraction or by using appropriate breathing equipment.
Post treatment
Standard PPE recommended (dust mask, gloves)
Certifications
Certification RoHS Nanovia PEI CF :
Packaging
Vacuum packed spools, with desicant, packed in individual boxes with engraved serial number.
Other formats available on demand.
| | | | | | | |
| --- | --- | --- | --- | --- | --- | --- |
| Spool | L1 | L2 | D1 | D2 | D3 | Weight |
| 500g | 53 | 46 | 200 | 90 | 52 | 182 g |
| 2kg | 92 | 89 | 300 | 175 | 52 | 668 g |
www.nanovia.tech/ref/pei-cf