Description
Properties
3D Printing
| | |
| --- | --- |
| Extrusion T° | 230 – 250 °C |
| Plate T° | 60 – 80 °C |
| Enclosure T° | 20 °C |
| ventilation % | 0 |
| Nozzle (minimum) | tous |
| Printing speed | 20 – 70 mm/s |
| Diameter | 1.75 & 2.85 mm +/- 50 µm |
| Colours | Translucid, black |
Mechanical properties
Density
1.12 g/cm3 (ISO 1183)
Traction resistance
28 MPa (ISO 527)
Elong. at break
320 % (ISO 527)
Traction stress
100% elongation 20 MPa
300% elongation 28 MPa (ISO 527)
Hardness
Shore 70 D
Thermal properties
Documentation
Download the technical chart
Download the security chart
With its shore hardness close to ABS (hard hat materiel) of 70D, Nanovia TPU 70D allows for semi-rigid functional wear resistant structures.
This polyurethane FFF thermoplastic is suited for outside usage, and ideal for silent blocks, wheels, soles, piping, shock absorbers, orthopédic prothèsis, security equipment etc…
Advantages:
Remains flexible at low temperatures down to -32 °C
UV resistant
Scratch resistant
User photos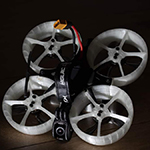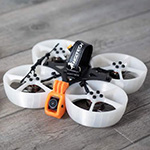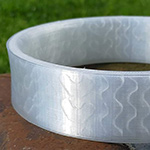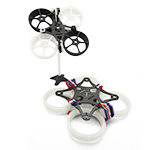 Protecteur d'hélices de drône imprimé en Nanovia TPU 70D par Stéphane Tabard
Application recommendations
Storage
Store Nanovia TPU 70D in a dry and dark location, if possible with a desiccant.
In order to guarantee good printing conditions dehydrate Nanovia TPU 70D at 60 °C for 4 hours or longer, when the spools has been exposed to moisture for an extended period.
Printing
Extrusion temperature : between 230 and 250 °C
Heated bed temperature : between 60 and 80 °C
Enclosure temperature: This material does not require a heated enclosure, and can be printed at room temperature.
Post treatment
Unlike other flexible filaments Nanovia TPU 70 is rigid enough to be sanded.
Health and safety
Post treatment
We recommend wearing standard safety equipment during the post treatment of your prints made with Nanovia TPU 70D.
Certifications
Certification RoHS Nanovia TPU 70D :
Packaging
Spools are packed in individual boxes, sous-vide with desiccant. Spools are equipped with both a material traciblity and a production series number.
Other sizes available up to 25kg on demand.
| | | | | | | |
| --- | --- | --- | --- | --- | --- | --- |
| Spool | L1 | L2 | D1 | D2 | D3 | Weight |
| 500g | 53 | 46 | 200 | 90 | 52 | 182 g |
| 2kg | 92 | 89 | 300 | 175 | 52 | 668 g |