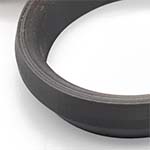 October 6, 2022
New over at imprimante3Dfrance, this limited edition gray (RAL7012) Nanovia TPU 70D.
This semi-rigid filament is particularly suited for shock absorbing components that also require structural capabilities.
As for example, this Rocket-X3 Race/Shuriken Whoop racing drone chassis, modelled and 3D printed by Stéphane Tabard. The chassis is downloaded as open source here.
Nanovia is able to propose custom colours starting at 20kg of material on most of our composite polymers.
Tags:
Nanovia TPU 70D
Categorised in: Products