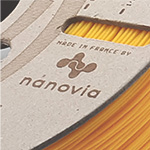 September 23, 2022
Other than our technical FFF filaments for 3D printing, Nanovia is also able to develop materials in specific colours, as we are doing for the PLA of the brand KBC, by Benjamin Collet.
The products of this new range, made by Nanovia, will be available mid-october at coben.shop, as well as on nanovia.tech.
Benjamin Collet, alias Coben, is a social media 3D printing content creator known on Tiktok, Instagram, and Youtube.
Nanovia can formulate most of its polymer catalogue to be adapted to industry colour standards. Such as food industry blue, radioactive maintenance fuchsia, or camouflage tints.
Tags:
Coben en
,
PLA EF
Categorised in: Products