Description
Properties
3D Printing
| | |
| --- | --- |
| Extrusion T° | 190 – 210 °C |
| Plate T° | 50 – 70 °C |
| Enclosure T° | 20 °C |
| Nozzle (minimum) | All |
| Diameter | 1,75 & 2,85 mm +/- 50 µm |
| Colours | Translucid, black, white |
Mechanical properties
| | |
| --- | --- |
| Density | 1.24 g/cm3 (ISO 1183) |
| Tensile modulus | 2315 MPa (D 638) |
| Tensile strength at yield | 51 MPa (D638) |
| Tensile strength at break | 50 MPa (D638) |
| Tensile elongation at break | 3.31 % (D638) |
| IZOD impact (notched) | 1,18 kJ/m2 (D256) |
Thermal properties
| | |
| --- | --- |
| Tg | 55 – 60 °C |
| MFR | 7-9 g / 10 min (ISO 1133) |
| HDT-B (0.45 MPa) | 80 – 90 °C (E2092) |
Documentation
Download the technical chart
Download the security chart
Create precise prints with ease using Nanovia PLA EF. This certified endocrine disruptor free 3D filament is perfect for prototypes and toys.
Advantages:
Easy to print
Biodegradable
Certified endocrine disruptor free
Produced using certified food contact safe EU Plastics Regulation 10/2011 pellets
User photos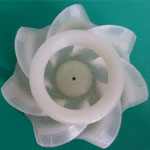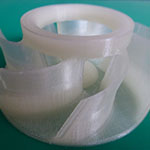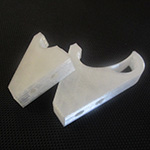 Pre "drilled" wall mount for garden equipement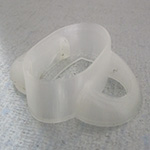 3d printed part for a broken toy sword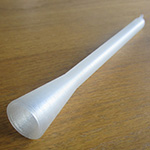 Toy blowpipe to shoot paper arrows
Application recommendations
Storage
Store Nanovia PLA EF in a dry and dark location, if possible with a desiccant.
In order to guarantee good printing conditions dehydrate Nanovia PLA EF at 50 °C for 4 hours or longer, when the spools has been exposed to moisture for an extended period.
Printing
Nanovia PLA EF filament can be used on all commercially available 3D printers.
Extrusion temperature : between 190 and 210 °C
Heated bed temperature : between 50 and 70 °C
Post treatment
For an outdoor usage, we recommend that you paint your print or submit them to an anti UV treatment, such as our Nanovia smoothing solution. However, due to PLA's relatively low temperature resistance, pieces in direct sunlight should be avoided.
Health and safety
Post treatment
We recommend wearing standard safety equipment during the post treatment of your prints made with Nanovia PLA EF.
Endocrine disruptor test

1 Method OEDT – SERPBIO Laboratory. Sample : NANOVIA 3D filament PLA EF.
Study: Measuring the activity of the human estrogenic receptors expressed in S. cerevisiae (SW303.1B).
Every measurement is reproduced 3 times independently with the different contents of the tested sample.
Results: The obtained data shows that the tested product does not influence the measured activity.
Note on the ratio of circulating plasmic œstradiol: With menopaused women / with men: * [4×10-11M – 2×10-10M] with pre menopaused women (excluding ovulation): [1×10-10M – 5×10-10M] / with women (ovulation): [2×10 -9m] * a value is considered critical when it exceeds [2×10-11M].
CONCLUSION: The tested material can be considered absent of endocrine disruptors.
Certifications
Certification RoHS Nanovia PLA EF :
Made using certified food safe pellets : EU Plastics Regulation 10/2011
Made using certified food safe pellets : FDA section 201(s) and Parts 182, 184, and 186 of the Food Additive Regulations
Packaging
Spools are packed in individual boxes, sous-vide with desiccant. Spools are equipped with both a material traciblity and a production series number.
Other sizes available up to 25kg on demand.
| | | | | | | |
| --- | --- | --- | --- | --- | --- | --- |
| Spool | L1 | L2 | D1 | D2 | D3 | Weight |
| 500g | 53 | 46 | 200 | 90 | 52 | 182 g |
| 2kg | 92 | 89 | 300 | 175 | 52 | 668 g |