Description
Properties
3D Printing
| | | | |
| --- | --- | --- | --- |
| Extrusion temperature | 200 – 215 | °C | |
| Plate temperature | 60 – 70 | °C | |
| Enclosure temperature | 20 | °C | |
| Nozzle (minimum) | 0,5 | mm | |
| Diameter | 1.75 & 2.85 | mm +/- 50 µm | |
| Colour | Green | | |
Mechanical properties
| | | | |
| --- | --- | --- | --- |
| Density | 1.24 | g/cm3 | ASTM D792 |
| Young modulus | 2315 | MPa | ASTM D638 |
| Break resistance | 50 | MPa | ASTM D638 |
| Elong. at break | 3.30 | % | ASTM D638 |
| Charpy notched | 1.8 | kJ/m2 | ISO 179-1eU |
Thermal properties
| | | | |
| --- | --- | --- | --- |
| Tg | 55 – 60 | °C | |
| HDT at 0,45 MPa | 80 – 90 | °C | |
Biological
| | | | |
| --- | --- | --- | --- |
| % elimination 1H | 86,8 | % | ISO 21702 |
| % elimination 2H | 98,7 | % | ISO 21702 |
| % elimination 4H | 99,9 | % | ISO 21702 |
| % elimination 8H | 99,9 | % | ISO 21702 |
Documentation
Download the technical chart
Download the security chart
last updated : 17/05/2023
Print daily use objects with ease using Nanovia PLA VX, specially designed with additive fabrication in mind. This filament limits the spread and risks of biological contaminants, and is certified ISO 21702:2019.
Nanovia PLA VX's virucidal properties allow the elimination of 86.8% and 98.7% of the H1N1 virus, respectively after a contact period of 1 and 2 hours.
Thanks to its radical action and safe for skin contact, Nanovia PLA VX is perfectly suited for the fabrication of everyday usage items.
Virucide properties
The virucide test has been conducted according to the ISO 21702 norm by an independent laboratory in normalized conditions, on a FFF 3D printed test samples using H1H1 Influenza virus.
Advantages
Certified Virucide norm ISO 21702 on influenza H1N1 (the H1N1 is a shell virus similar to COVID19)
No risk on contact
Auto decontamination/ prevents the formation of a biofilm
Easy to print
Food safe
Long term efficiency
Other formats
The Nanovia VX product range is composed of 2 types of 3D filaments, developed to limit the spread of infectious viruses :
PLA VX : print daily use objects with ease
Flex VX: flexible filament, shock and distortion absorbing (soles.…)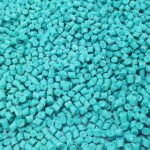 Nanovia PLA VX is also available in pellet form for plastic extrusion and FGF 3D printing.
Application recommendations
Storage
Store in airtight container with desiccant, out of direct sunlight.
Health and safety
Post treatment
Do not apply any paint or coating on pieces printed using Nanovia PLA VX, in order to conserve its virucide properties.
Use biocide products with precaution
Please refer to the safety sheet and the technical data sheet when using Nanovia PLA VX
ANSES N° : 20-07988
Certifications
Certification RoHS Nanovia PLA VX :
Packaging
Vacuum packed spools, with desicant, packed in individual boxes with engraved serial number.
Other formats available on demand.
| | | | | | | |
| --- | --- | --- | --- | --- | --- | --- |
| Spool | L1 | L2 | D1 | D2 | D3 | Weight |
| 500g | 53 | 46 | 200 | 90 | 52 | 182 g |
| 2kg | 92 | 89 | 300 | 175 | 52 | 668 g |
www.nanovia.tech/ref/pla-vx
FAQ:
Is Nanovia VX certified efficiant avainst the Covid-19 Virus?
Up to today there is no existing ISO validated norm proving the action against the Covid-19 virus. However, the Covid-19 is structured (corona virus) in the same family as the H1N1 virus.
Is its protection longlasting ?
Yes, the active charge of Nanovia VX is present throughout all of the material, allowing the surface to maintain its virucidal properties. It is important to make sure that the surface does not get covered to ensure its efficiency.
Can printed parts be covered by another product (paints, varnish, etc…) ?
No, it's imperative to keep the surface of the printed parts such as, they cannot be covered with paint or varnish. In order to be efficient the material need to be in direct contact with the pathogen.
Is it really efficiant?
The biological test has been performed within the ISO 21702 norm by a certified independent laboratory on a 3D FFF printed test sample. Nanovia VX virucidal properties conform to the European norms.
How do Nanovia VX virucidal properties work ?
The biocidal active, with a complex copper and silver base, has been specially formulated to be incorporated in the Nanovia VX range. Our patented formulation allows for the presence of the decontamination agent throughout the printed parts and its stability over time.
The active virucidal agent causes a degradation of the virus' wall by catalysis.