Description
Properties
3D Printing
| | | | |
| --- | --- | --- | --- |
| Extrusion temperature | 210 – 230 | °C | |
| Plate temperature | 20 – 40 °C | °C | |
| Enclosure temperature | 20 °C | °C | |
| Nozzle (minimum) | 0,4 | mm | |
| Diameter | 1.75 & 2.85 | mm | +/- 50 µm |
| Colours | Cream, black | | |
For a bettter print result, a lower retraction speed is recommended.
Mechanical properties
| | | | |
| --- | --- | --- | --- |
| Density | 1.55 | g/cm3 | ISO 1183 |
| Tensile modulus | 60 | MPa | ISO 527 |
| Elong. at break | > 300 | % | ISO 527 |
| Stress at break | 11.5 | MPa | ISO 527 |
| Hardness | 44 | Shore D | |
| | 93 | Shore A | |
Thermal properties
| | | | |
| --- | --- | --- | --- |
| VICAT | 91 | °C | ISO 306 |
| MFR | 2,7-4,9 | g/10min – 190 °C 2,16kg | ISO 1133 |
Documentation
Download the technical chart
Download the security chart
last updated : 08/03/2023
Using Nanovia Istroflex, biodegradable oyster shell based composite 3D filament, 3D print every day use flexible projects.
Its flexibillity is perfectly suited for technical parts that require a certain amount of give or bounce such as shock and vibration absorbers, silent blocks, gaskets, interstitial constricted materials, etc…
Developed in conjunction with the technical platform ComposiTIC and Usine de Kervellerin in 2015, Nanovia Istroflex 3D filament was awarded the CCI Morbihan innovation award.
Advantages
Flexible
Biodegradable and compostable
Excellent inter layer adhesion
ROSH heavy metal free certified
Endocrine pertubatur free certified
Colours
Nanovia Istroflex is available in two colours:
User photos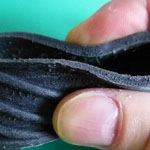 Flexible tube printed with Nanovia Istroflex – made by Objet Maker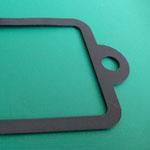 Flexible gasket printed with Nanovia Istroflex – made by Objet Maker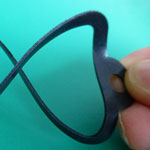 Flexible gasket printed with Nanovia Istroflex – made by Objet Maker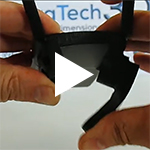 3D printed flexible support made using Nanovia PLA Flax – created by Innovatech 3D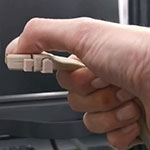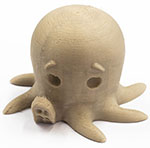 Reusable biodegradable plant tie with multiple settings printed using Nanovia Istroflex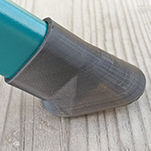 Anti-slip pads for lawn chair and table printed using Nanovia Istroflex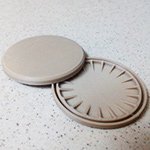 Pipe hub 3D printed using Nanovia Istroflex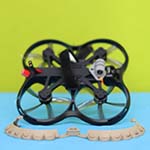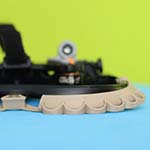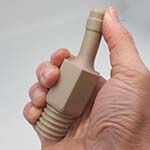 3D printed flexible tube connector/adaptor.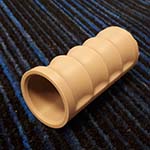 Replacement handle for additional grip.
Application recommendations
Storage
Store in airtight container with desiccant, out of direct sunlight.
Dehydrate for 4h at 60°C prior to printing after prolonged exposure to humidity.
Post treatment
It is possible to sand thick layers of Nanovia Istroflex.
Health and safety
Biodegradability
Nanovia Istroflex contains is a heavy polymer, based on biodegradable monomers and cosmetic grade oyster shells.
RoHS certification
Nanovia Istroflex RoHS certification:
Endocrine disruptor test:

1 Method OEDT – SERPBIO Laboratory. Sample : NANOVIA 3D filament Istroflex.
Study: Measuring the activity of the human estrogenic receptors expressed in S. cerevisiae (SW303.1B)
Every measurement is reproduced 3 times independently with the different contents of the tested sample
Results: The obtained data shows that the tested product does not influence the measured activity
Note on the ratio of circulating plasmic œstradiol: With menopaused women / with men: * [4×10-11M – 2×10-10M] with pre menopaused women (excluding ovulation): [1×10-10M – 5×10-10M] / with women (ovulation): [2×10 -9m] * a value is considered critical when it exceeds [2×10-11M].
CONCLUSION: The tested material can be considered absent of endocrine disruptors.
Packaging
Vacuum packed spools, with desicant, packed in individual boxes with engraved serial number.
Other formats available on demand.
| | | | | | | |
| --- | --- | --- | --- | --- | --- | --- |
| Spool | L1 | L2 | D1 | D2 | D3 | Weight |
| 500g | 53 | 46 | 200 | 90 | 52 | 182 g |
| 2kg | 92 | 89 | 300 | 175 | 52 | 668 g |
www.nanovia.tech/ref/istroflex