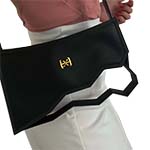 December 9, 2022
The young fashion brand INCXNNUE, founded by Laura Deweilde, chose the flexible Nanovia Istroflex filament, for their "Prysme" hip bag.
This biodegradable FFF filament is made using cosmetic grade using oyster shells, and will be used to make the frame for the PRYSME bags.
Recently INCXNNUE revealed the evolution of this bag in collaboration with the French 3D printer manufacturer Lynxter. It's by exploiting the Lynxter S600D multi material capabilities that Laura Deweilde has managed to create unique motifs and structures, by combining additive manufacturing and classical sewing techniques.
To learn more about this collaborative project between INCXNNUE and Lynxter : https://lynxter.fr/blog/chroniques/incxnnue-x-lynxter-impression3d-dans-la-mode/
Tags:
Nanovia Istroflex
Categorised in: Articles