Description
Properties
3D Printing
| | | | |
| --- | --- | --- | --- |
| Extrusion temperature | 200 – 220 | °C | |
| Plate temperature | 40 – 60 | °C | |
| Enclosure temperature | 20 | °C | |
| Nozzle (minimum) | 0,6 | mm | |
| Debit | +/- 115 | % | |
| Diameter | 1,75 & 2,85 | mm | +/- 50 µm |
| Colour | Gray | | |
Mechanical properties
| | | | |
| --- | --- | --- | --- |
| Density | 2.66 | g/cm3 | ISO 1183 |
| Cons. mass | 71 | % | |
| Cons. vol | 49 | % | |
Sintering
| | | | |
| --- | --- | --- | --- |
| Temperature | 2050 | °C | |
| Total time | 873 | min | |
| Shrinkage after sintering | 10 – 15 | % | |
Documentation
Download the technical chart
Download the security chart
last updated : 08/03/2023
Advantages
Create ceramic components with all the advantages of FFF additive fabrication.
Easy / normal post processing and tooling before sintering.
Sintering without the need for a chemical debinding step.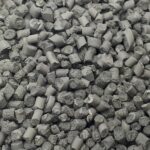 Nanovia Cr SiC is also available in pellet form for plastic extrusion and FGF pellet printing.
Application recommendations
Storage
Store in airtight container with desiccant, out of direct sunlight.
Dehydrate for 4h at 60°C prior to printing after prolonged exposure to humidity.
Printing
A reinforced nozzle, suitable for abrasive materials is recommended.
Post treatment
It's possible to apply normal post treatment techniques on green parts (sanding, polishing, threading, drilling, tooling, etc…), as shown in the following video :
Sintering
Sintering of Nanovia Cr products is done in two consecutive phases :
A debinding phase at a relatively low temperature of 400 °C, which evacuates the binding agent.
A sintering phase directly following the debinding phase at 2050 °C, which fuses the remaining ceramic particles together.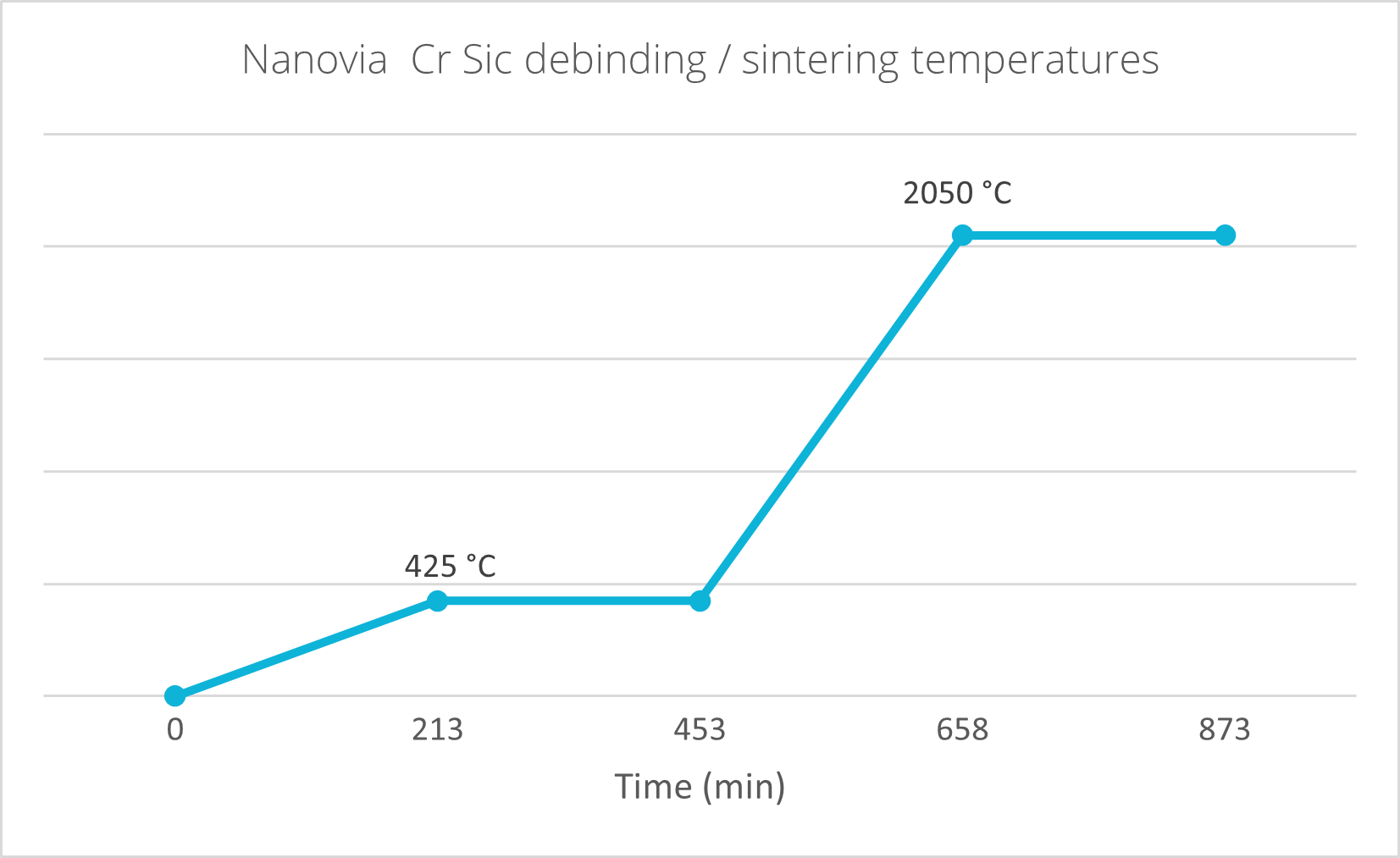 | | | | | |
| --- | --- | --- | --- | --- |
| Temperature (°C) | 0 – 425 | 425 | 453 – 2050 | 2050 |
| Time (min) | 213 | 240 | 205 | 215 |
Health and safety
Sintering
Please refer to the material data safety sheet.
Please refer to the used sintering furnace instruction manual.
Certifications
Certification RoHS Nanovia Cr SiC :
Packaging
Vacuum packed spools, with desicant, packed in individual boxes with engraved serial number.
Other formats available on demand.
| | | | | | | |
| --- | --- | --- | --- | --- | --- | --- |
| Spool | L1 | L2 | D1 | D2 | D3 | Weight |
| 500g | 53 | 46 | 200 | 90 | 52 | 182 g |
| 2kg | 92 | 89 | 300 | 175 | 52 | 668 g |
www.nanovia.tech/ref/cr-sic