Description
Properties
3D Printing
| | |
| --- | --- |
| Extrusion T° | 210 – 240 °C |
| Plate T° | 50 – 70 °C |
| Nozzle (minimum) | All |
| Printing speed | 20 – 60 mm/s |
| Diameter | 1.75 or 2.85 mm +/- 50µm |
| Colour | White |
Mechanical properties
| | |
| --- | --- |
| Density | 1.66 g/cm3 (ISO 1183) |
| Tensile modulus | 3500 MPa (ISO 527) |
| Flexural Modulus | 8800 MPa (ISO 527) |
| Elong. at break | 3.5% (ISO 527) |
| Charpy notched | 1.8 kJ/m2 (ISO 179-1eU @ 23 °C) |
| Charpy full | 12 kJ/m2 (ISO 179-1eA @ 23 °C) |
Thermal properties
Documentation
Download the technical chart
Download the security chart
Nanovia PLA XRS allows the 3D printing of radio-opaque parts, without using lead or any toxic materials. It prints just as easy as Nanovia PLA EF, and is usable on most commercially available 3D printers.
The x-ray shielding effect depends on the width of the part and its printing settings (infill, orientation, etc…).
Advantages:
Radio-opaque
Easy to print
Lead and toxic materials free
User photos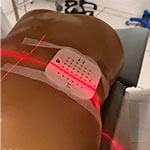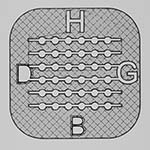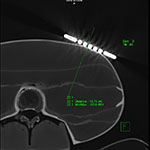 Radio transversale montrant les ouvertures du guide d'injection a fin de déterminer la position la plus adapté. Réalisé par Samuel Guigo – CHU BREST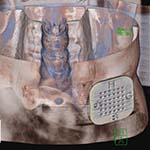 Application recommendations
Storage
Store Nanovia PLA XRS in a dry and dark location, if possible with a dessicant at 50 °C for 4 hours or longer, when the spools has been exposed to moisture for an extended period.
Printing
Extrusion temperature : between 210 and 240 °C
Heated bed temperature : between 50 and 70 °C
Hygiène & sécurité
Usage
Nanovia PLA XRS is not suited for medial and dental implants.
Post treatment
We recommend wearing standard safety equipment during the post treatment of your prints made with Nanovia PLA XRS.
Please consult the security data chart for more information.
Certifications
Certification RoHS Nanovia PLA XRS :
Packaging
Spools are packed in individual boxes, sous-vide with desiccant. Spools are equipped with both a material traciblity and a production series number.
Other sizes available up to 25kg on demand.
| | | | | | | |
| --- | --- | --- | --- | --- | --- | --- |
| Spool | L1 | L2 | D1 | D2 | D3 | Weight |
| 500g | 53 | 46 | 200 | 90 | 52 | 182 g |
| 2kg | 92 | 89 | 300 | 175 | 52 | 668 g |