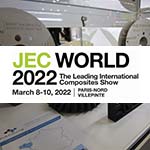 May 10, 2022
The Nanovia team would like to thank everyone who came to visit us and that we've met at this JEC 2022.
This year we showed off our pellets for injection moulding and FGF printing, as well as our latest filaments for additive FFF fabrication such as :
Our Nanovia PA Rail EN 45545-2, a polyamide that adheres to railway certifications with its fire and smoke resistance.
The new Nanovia PP CF, a polypropylene filament reinforced with carbon fibers.
And our PEKK-PEI GF, which is in its final development phase for project SPRING. The aim of project SPRING being the development of a high temperature material with increased mechanical properties.
On the Brittany Pavillion, as well as on the exhibition, there were several of our other products in action.
Notably at IRMA / Compositic who 3D printed a stool by Vincent Vernet with our PLA Flax with a Flex EXP cushion. And over at Lynxter, who were demoing their multi material 3D printer (FFF- silicone – ceramic) with Nanovia PA-6 CF.
We would also like to thanks Benjamin Collet for visiting us, pour qui nous développons une gamme de filaments.who we are making a special range of filaments for.
Finally, we would like to thank the team of BDI who organised the pavilion and made the exhibition in the success it was.
Tags:
Nanovia Flex EXP
,
Nanovia PA Rail
,
Nanovia PLA Flax
,
Nanovia PP CF
,
PA-6 CF
Categorised in: Events