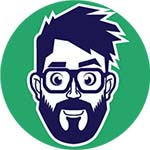 April 1, 2022
Early in 2021 we were contacted by Benjamin Collet (alias Coben) for the first time, asking us if he could test some of our products for this Tiktok channel.
This collaboration allowed us to discover many applications in non industrial settings, such as a pair of shoes fully 3D printed using our Nanovia Flex EXP, but also technical applications  such as an x-ray detectable ruler make using our Nanovia PLA XRS.
On TikTok, and now Youtube, Coben's videos show educational and entertainment uses for 3D printing. Since his start, Coben has 635 000 members following his content.
When Coben approached us with the idea of creating his own brand of 3D printer consumables, we decided to partner up and create something unique.
This brand, of which the name will be revealed soon, will start with FDM filaments based on our Nanovia PLA EF. This filament is certified without endocrine disruptors and can be used to make toys for small children without risks. The first colours have already been chosen by Coben's community, and are in developement.
This new range of products will not stop with this initial production of colours, with new exlusive and innovative filament already planned.
For more information on this range, please visit: www.coben.shop/blog.
Tags:
Coben en
Categorised in: Products