Description
Properties
3D Printing
Extrusion T°
190 – 220 °C
Plate T°
20 – 60°C (optionel)
Linear weight
2.67 @ Ø 1.75 mm
7.06 @ Ø 2.85 mm
Colour
Translucid, black, white
Mechanical Properties
| | |
| --- | --- |
| Density | 1.11 g/cm3 (ISO 1183) |
| Tensile mod. | 2315 MPa (ISO 527) |
| Tensile strength | 50 MPa (ATM D638) |
| IZOD impact notched | 2.21 kJ/m² (ASTM D256) |
Thermal Properties
| | |
| --- | --- |
| Tg | 57°C |
| MFR | 7-9 g / 10 min (ISO 1133) |
| HDT-B (0.45MPa) | 70-80 °C (ISO 75) |
Documentation
Download the technical chart
Download the security chart
Create precise prints with ease using Nanovia PLA EF. This certified endocrine disruptor free 3D filament is perfect for prototypes and toys.
Avantages:
Easy to print
Biodegradable
Certified endocrine disruptor free
Colours
Nanovia PLA EF is available in 3 colours:
User photos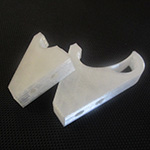 Pre "drilled" wall mount for garden equipement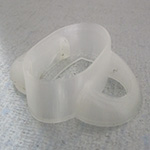 3d printed part for a broken toy sword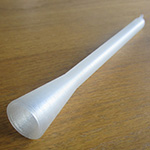 Toy blowpipe to shoot paper arrows
Application recommendations
Storage
Store Nanovia PLA EF in a dry and dark location, if possible with a desiccant.
In order to guarantee good printing conditions dehydrate Nanovia PLA EF at 50°c for 4 hours or longer, when the spools has been exposed to moisture for an extended period.
Printing
Nanovia PLA EF filament can be used on all commercially available 3D printers.
Extrusion temperature : between 190 and 220°C
Heated bed temperature : between 20 and 60°C
Post treatment
For an outdoor usage, we recommend that you paint your print or submit them to an anti UV treatment, such as our Nanovia smoothing solution.
Health and safety
Post treatment
We recommend wearing standard safety equipment during the post treatment of your prints made with Nanovia PLA EF.
Conditionnement
Spools are packed in individual boxes, sous-vide with desiccant. Spools are equipped with both a material traciblity and a production series number.
Other sizes available up to 25kg on demand.
| | | | | | |
| --- | --- | --- | --- | --- | --- |
| Spool | L1 | L2 | D1 | D2 | D3 |
| 500g | 55 | 45 | 200 | 105 | 52 |
| 2kg | 100 | 90 | 300 | 210 | 52 |