Description
Properties
3D Printing
| | | | |
| --- | --- | --- | --- |
| Extrusion temperature | 240 – 260 | °C | |
| Plate temperature | 100 – 110 | °C | |
| Enclosure temperature | 90 | °C | |
| Nozzle (minimum) | 0.5 | mm | |
| Printing speed | 20 – 60 | mm/s | |
| Diameter | 1.75 & 2.85 | mm +/- 50 µm | |
| Colour | Black | | |
Mechanical properties
Physical
Tensile



Test performed at 1mm/min on 3D printed test specimins at 0°, along with the tension stress.
| | | | |
| --- | --- | --- | --- |
| Young's modulus | 3200 | MPa | ISO 527-2/1A |
| Ultimate strength | 32 | MPa | ISO 527-2/1A |
| Elongation ultimate strength | 1.4 | % | ISO 527-2/1A |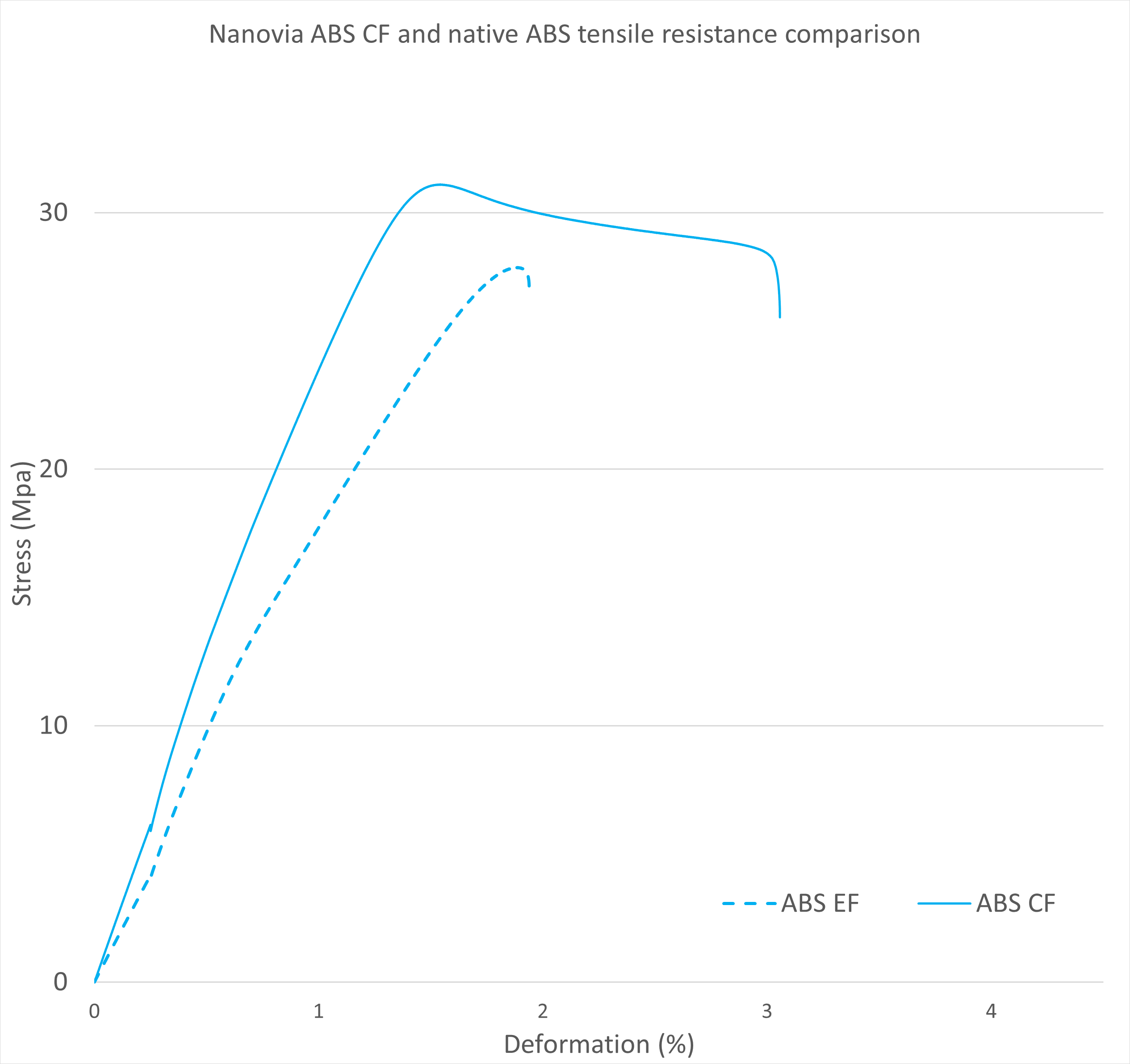 Impact
| | | | |
| --- | --- | --- | --- |
| Charpy (notched) | 16.05 | kJ/m2 | |
Thermal properties
Documentation
Download the technical chart
Download the security chart
last updated : 08/03/2023
By combining acrylonitrile butadiene styrene (ABS) and carbon fibres, Nanovia ABS CF allows for increased mechanical properties when compared to native ABS, and easier printing thanks to reduced warping.
With its increased stiffness (Young Modulus 3200 MPa compared to 1800 MPa for Nanovia ABS EF), Nanovia ABS CF is ideal for tooling and functional 3D prints.
Nanovia ABS CF is compatible with most commercially available 3D printers equipped with a heated bed.
Advantages
Increased mechanical resistance compared to native ABS
Low warping
Good bed adhesion
Thermal resistance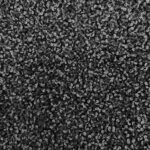 Nanovia ABS CF is also available in pellet form for plastic extrusion and FGF pellet printing.
Application recommendations
Storage
Store in airtight container with desiccant, out of direct sunlight.
Dehydrate for 4h at 60°C prior to printing after prolonged exposure to humidity.
Printing
A reinforced nozzle, suitable for abrasive materials is recommended.
Post treatment
For an outdoor usage, we recommend that you paint your print or submit them to an anti UV treatment, such as our Nanovia smoothing solution. ABS is sensitive to UV radiation.
Health and safety
Printing
We recommend printing Nanovia ABS CF in a room equipped with air extraction or by using appropriate breathing equipment. Whilst printing ABS produces a VOC derivative of styrene.
Post treatment
We recommend wearing standard safety equipment during the post treatment of your prints made with Nanovia ABS CF.
Certifications
RoHS certification Nanovia ABS CF :
Links
Ultimaker Cura slicer material profile : Download
Packaging
Vacuum packed spools, with desicant, packed in individual boxes with engraved serial number.
Other formats available on demand.
| | | | | | | |
| --- | --- | --- | --- | --- | --- | --- |
| Spool | L1 | L2 | D1 | D2 | D3 | Weight |
| 500g | 53 | 46 | 200 | 90 | 52 | 182 g |
| 2kg | 92 | 89 | 300 | 175 | 52 | 668 g |
www.nanovia.tech/ref/abs-cf