Description
Properties
3D Printing
| | | | |
| --- | --- | --- | --- |
| Extrusion temperature | 220 – 240 | °C | |
| Plate temperature | 80 – 90 | °C | |
| Enclosure temperature | 20 | °C | |
| Nozzle (minimal) | 0.5 | mm | |
| Printing Speed | 20 – 60 | mm/s | |
| Diameter | 1.75 or 2.85 | mm | +/- 50µm |
| Colour | Black | | |
Mechanical properties
Tensile



Results based on test specimens 3D printed at 0°, along with the tension stress.
| | | | |
| --- | --- | --- | --- |
| Young's modulus | 5800 | MPa | ISO 527/1A |
| Ultimate strength | 57 | MPa | ISO 527/1A |
| Elongation ultimate strength | 2.3 | % | ISO 527/1A |
Impact
Thermal properties
Documentation
Download the technical chart
Download the security chart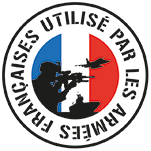 Nanovia PETg CF allows for the creation of structural 3D prints with low warping thanks to its compound carbon fibers structure. This composite 3D filament has been specially designed to be compatible with standard 3D printers equipped with a heated bed.
Nanovia PETg CF is also availble in pellet form for plastic extrusion and 3D FGF pellet printing.
Advantages:
Good mechanical properties
Good dimensional control
Ideal for structural pieces
Easy to print
User photos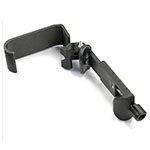 Support de téléphone imprimé en Nanovia PETg CF – crée par Co.ben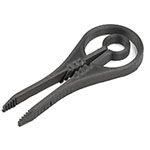 Pince en Nanovia PETg CF – crée par Co.ben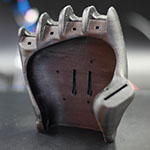 Main robotique imprimé en nanovia petg cf – crée par Co.ben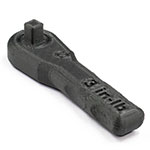 Clé à douille designé par la NASA – Imprimé par Co.ben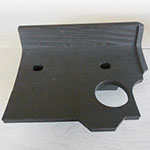 Pièce structurel – Imprimé par Thierry Lyps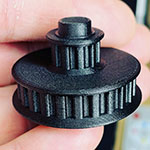 Engrenages pour voiture RC en Nanovia PETg CF – Imprimé par Adrix RC
Engrenage mécanique pour voiture radio télécomandé – Imprimé par Adrix RC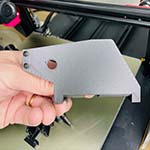 Chassis pour voiture RC – Imprimé par Adrix RC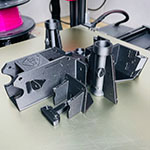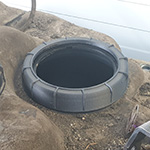 Bouchon pour récevoir d'essence de camion
Angles et coins imprimés 3D pour strucure métallique.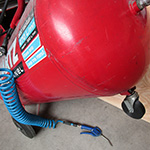 Roue dure pour compresseur à air
Application recommendations
Storage
Store Nanovia PETg CF in a dry and dark location, if possible with a desiccant.
In order to guarantee good printing conditions dehydrate Nanovia PETg CF at 60 °C for 4 hours or longer, when the spools has been exposed to moisture for an extended period.
Printing
Extrusion temperature : between 220 and 240 °C
Heated bed temperature : between 80 and 90 °C
In order to protect your equipment we recommend using a nozzle adapted for abrasive materials.
Post treatment
For an outdoor usage, it's recommended either paint or apply a protective UV coating.
Health and safety
Printing
We recommend printing Nanovia PETg CF in a room equipped with air extraction or by using appropriate breathing equipment.
Post traitement
We recommend wearing standard safety equipment during the post treatment of your prints made with Nanovia PETg CF.
Certifications
Certification RoHS Nanovia PETG CF :
Links
Ultimaker Cura slicer material profile : Link
Packaging
Spools are packed in individual boxes, vacuum sealed with desiccant. Spools are equipped with both a material traciblity and a production series number.
Other sizes available up to 25kg on demand.
| | | | | | | |
| --- | --- | --- | --- | --- | --- | --- |
| Spool | L1 | L2 | D1 | D2 | D3 | Weight |
| 500g | 53 | 46 | 200 | 90 | 52 | 182 g |
| 2kg | 92 | 89 | 300 | 175 | 52 | 668 g |