Description
Properties
3D Printing
Extrusion temperature
220 – 240
°C
Plate temperature
80 – 90
°C
Enclosure temperature
20
°C
Nozzle (minimal)
tous
Diameter
1.75 & 2.85
mm
+/- 50µm
Colours
black, white, transparent (native) yellow, red, blue, green, orange, gray
Mechanical properties
Physical
Tensile



Test performed at 1mm/min on 3D printed test specimins at 0°, along with the tension stress.
| | | | |
| --- | --- | --- | --- |
| Young's modulus | 2260 | MPa | ISO 527-2/1A |
| Ultimate strength | 44 | MPa | ISO 527-2/1A |
| Ultimate strength elongation | 3.2 | % | ISO 527-2/1A |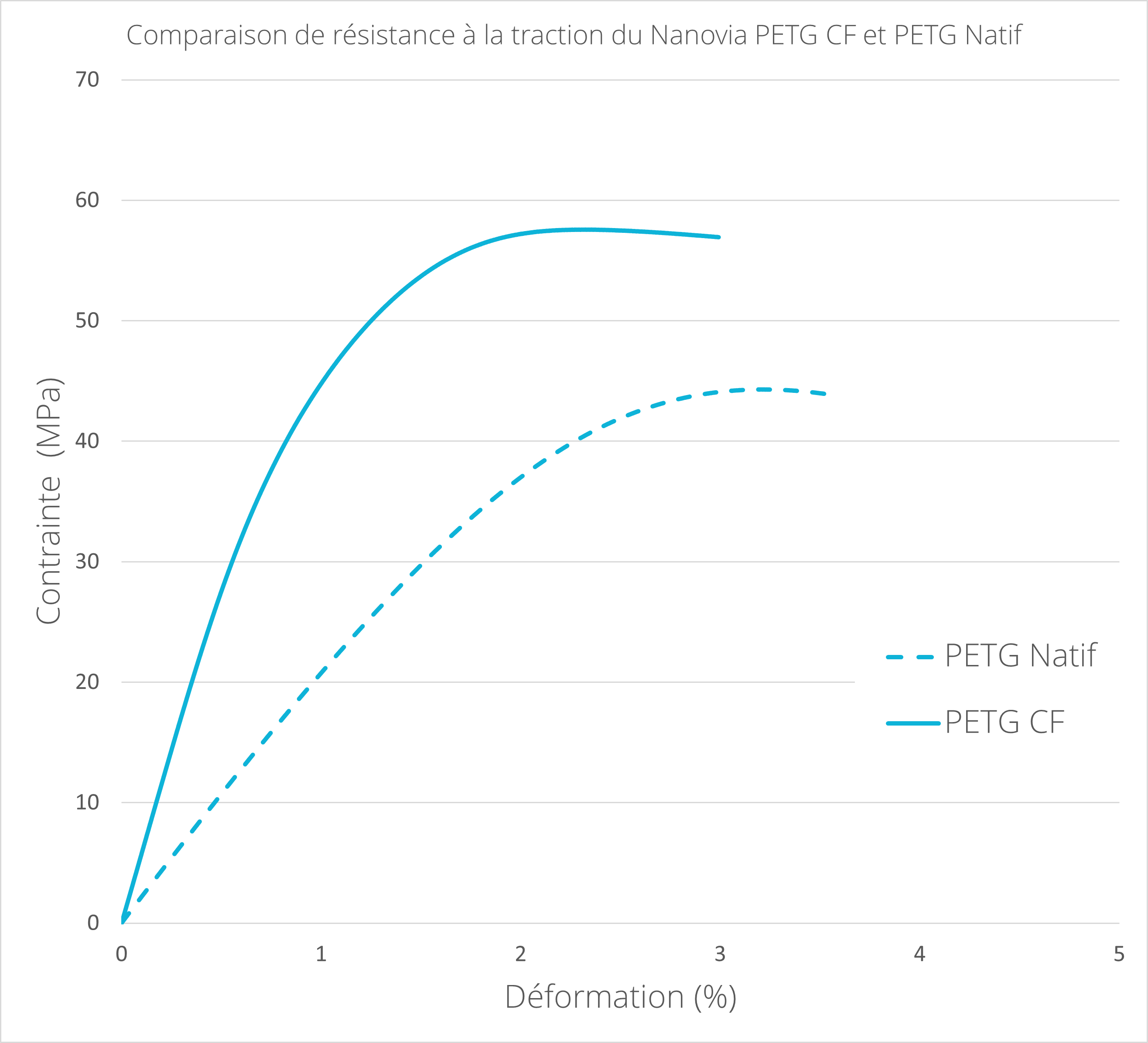 Impact
Thermal properties
Documentation
Download the technical chart
Download the security chart
last updated : 20/06/2023
Easy to use 3D printer filament, suitable for outdoor usage that is able to withstand medium forces.
Avantages
Easy to print
Temperature resistant up to 80°C
Water resistant
FDA approved base material
Application recommendations
Storage
Store in airtight container with desiccant, out of direct sunlight.
Dehydrate for 4h at 60°C prior to printing after prolonged exposure to humidity.
Post treatment
For useage in direct sunlight it's recommended either paint or apply a protective UV coating to a PETG 3D printed part.
Health and safety
Printing
Print in a ventilated room
Post treatment
Standard PPE recommended (dust mask, gloves)
Certifications
Nanovia PETG ROHS Certified :
Packaging
Vacuum packed spools, with desicant, packed in individual boxes and engraved serial number.
Other formats available on demand.
| | | | | | | |
| --- | --- | --- | --- | --- | --- | --- |
| Spool | L1 (mm) | L2 (mm) | D1 (mm) | D2 (mm) | D3 (mm) | Tare (g) |
| 750 g | 55 | 49 | 200 | 115 | 57 | 194 |
| 2 kg | 95 | 87 | 300 | 195 | 57 | 502 |
| 4.5 kg | 100 | 92 | 300 | 110 | 57 | 430 |
www.nanovia.tech/ref/petg