Description
Properties
3D Printing
Extrusion T°
280 – 290 °C
Plate T°
80 – 100 °C
Enclosure
60 °C
Nozzle
All
Diameter
1.75 & 2.85 mm +/- 50µm
Linear mass
2.40 g/m @ Ø 1.75 mm
6,38 g/m @ Ø 2.85 mm
Mechanical Properties
| | |
| --- | --- |
| Density | 1.79 g/cm3 (ISO 1183) |
| Elong. at Break | 200 – 750 % |
| Water absorption | 0% (after 24h submersion) |
Propriétés Thermiques
| | |
| --- | --- |
| Tg | -40 °C |
| T° Fusion | 170 – 180 °C |
| Flamability | V-0 at 1.5mm UL 94 |
Documentation
Télécharger la fiche technique
Télécharger la fiche de sécurité
This semi-crystalline polymer allows for the creation of networks able to transport solvents, hydrocarbons, acids, and bases. Able to polarize under constraint, PVDF is also commonly used in electric applications such as batteries.
Advantages:
High chemical resistance
Low friction coefficient
Usuable up to 160 °C
User photos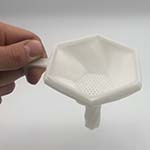 Chemical resistant PVDF filtering funnel
Application recommendations
Storage
PVDF is a hydrophopic polymer and thus does not require any particular protection from moisture during storage. Nor does it needs to be dehydrated before printing.
Printing
To prevent large prints from retracting from the build plate, an adhesive is recommended.
Extrusion temperature : 280 – 290 °C
Plate temperature : 80 – 100 °C
Health and Safety
Impression
We recommend printing Nanovia PVDF in a room equipped with air extraction or by using appropriate breathing equipment.
Do not extrude at temperatures above 330 °C, risk of VOC creation.
Post traitement
Wearing standard safety equipment during the post treatment of prints made with Nanovia PVDF is recommended.
Certifications
Nanovia PVDF RoHS Certification :
Packaging
Spools are packed in individual boxes. sous-vide with desiccant. Spools are equipped with both a material traciblity and a production series number.
Other sizes available up to 25kg on demand.
| | | | | | | |
| --- | --- | --- | --- | --- | --- | --- |
| Spool | L1 | L2 | D1 | D2 | D3 | Poids |
| 500g | 55 | 45 | 200 | 105 | 52 | 185 g |
| 2kg | 100 | 90 | 300 | 210 | 52 | 668 g |