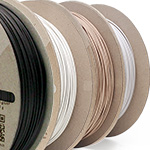 February 1, 2023
With the new year well on its way, we would like to summarize the highlights of 2022, ongoing, and new projects at Nanovia in 2023.
New 3D printer filaments
From 2022 to early 2023 we've completed our 3D printer filament catalogue with 5 additional products.
Nanovia PA Rail : EN 45545-2
Certified NF EN 45545-2 for its non-flammable, low smoke and toxic free properties, Nanovia PA Rail is usable in the railway sector.
This composite polyamide filament allows for the creation of components for sensitive environments, resilient up to 100°C, printable without enclosure.
Nanovia PA Rail joins Nanovia PC-ABS Rail in making the 3D printing of EN 45545-2 materials more accessible.
Nanovia PP CF : Carbon fiber reinforced
Thanks to polypropylene's close to zero water absorption rate, high chemical resistance, low density, and a native UV resistance, Nanovia PP CF is ideal for light components exposed to the elements which require a high dimensional stability.
Nanovia PP CF is suited for nautical equipment and mechanical automotive parts.
Nanovia PETG GF UV : Glass fiber reinforced
Nanovia PETG GF is a FFF filament suitable for the production of structural and technical objects for outdoor applications. Water and temperature resistant up to 80 °C, it's enriched with UV resistant additives.
Its glass fibre reinforced matrix makes it 40% more resistant than native PETG. These glass fibres, in addition to facilitating the 3D printing process, also increase part rigidity.
Compared to Nanovia PETG CF, the new PETG GF is a non conductive and colourable, alternative suited for outdoor applications.
Nanovia PLA Wood : 45 % pine compound
Nanovia PLA Wood is a based biodegradable composite FFF filament is made using 45% up-cycled pine wood powder from the French "Landes" region.
It's dotted light brown aspect and textured surface is perfect for unique interior decorations and objects.
Much like regular wood, It's possible to stain and varnish 3D printed parts.
Nanovia PLA Wood is our second biocomposite filament among with our Nanovia PLA Flax.
Nanovia PETG ESD : ElectroStatic Discharge
Protect your sensitive electronic devices with this ceramic charged ESD FFF filament. Nanovia PETG ESD prevents the accumulation of static electricity by gradually discharging it.
It can house circuits and components that go up to 80 °C, and unlike carbon based ESD products is not abrasive to the 3D printer nozzle.
Nanovia PETG ESD can be made into coloured versions.
Available mid-February 2023
Nanovia PETG ESD is our second ESD filament joining Nanovia ABS ESD.
E-Shop launch
Mid-2022 we've launched our own web store. On it, it's possible to directly order all of our filaments, samples, and post-treatment products.
Composite plastic pellets
With the launch of our e-shop, we've also made available the composite polymer pellets that we produce for both FGF 3D printing (fused granulate fabrication) and plastic injection.
Quotes and pro forma documents
It's also possible to request a quote via the "add to quote" button available on our product pages as well as obtain required pro forma documents for sales platforms.
Mechanical data
Near the end of 2022 we've tested the mechanical resistance of the majority of our products via ISO 527/1A traction tests. These tests were done on 3 differently printed specimens.
These tests allow for more accurate simulations of our materials when printed. They also allow for an easier comparison of the properties of our materials.
All of our mechanical data is available on our product pages.
Cardboard packaging
With our CSR policy in mind, we've transitioned to cardboard spools and boxes early 2022.

The spools and boxes are made using recycled cardboard. Furthermore, to limit the use of paper and ink, all our products are laser engraved.
Coben collaboration
In October 2022 we launched a collaborative project with Benjamin Collet (alias Coben) with his range of coloured PLA filaments, KBC PLA 850.
This range now has 8 colours, all available on the website Coben.shop.
We are currently working on new project that we hope to share soon.
Events
Re-opening of expos
With the re-opening of professions expos in 2022, we were able once again to directly meet our customer base.
Under the umbrella of Région Bretagne, we attended JEC 2022, and we would like to thank everyone who came to chat with us.
Meet up Anticipa
We also organized a public event at our offices / manufacturing plant in Louargat, France, with Anticipa, l'EDEN Cluster, and the DGA.
This event allowed us to directly interact with the local industrial fabric.
On-going developments
In addition to our public product range, we are also currently developing several products for specialized industries :
Continuous fibre filaments
Radio opaque filaments
Filaments suitable for the nuclear sector
Custom material developments on client specifications
Development of materials for the different components of 3D printed functional batteries. Read more about project IODA
Material development designed for the 3D printing of plastic injection moulds.
Tags:
Nanovia PA Rail
,
Nanovia PETG ESD
,
Nanovia PETG GF
,
Nanovia PLA Wood
,
Nanovia PP CF
Categorised in: Newsletter, Products