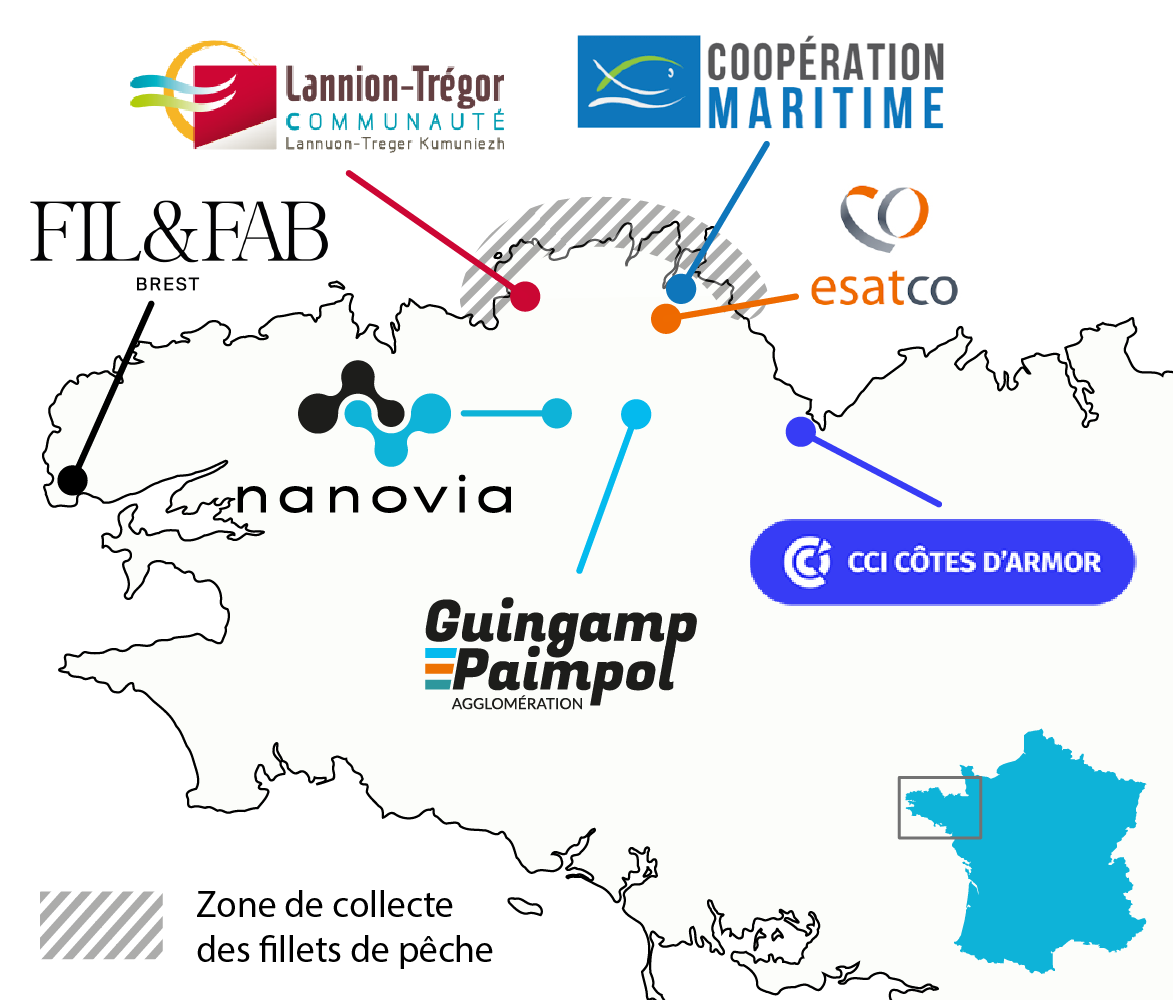 July 7, 2021
Nanovia is joining the fishing net recycling program on the Breton coast to create PA-6 Nylon filaments for 3D FDM printing.
The start of a circular economy
In order to avoid the burial disposal of used fishing nets on its ports, Guingamp-Paimpol Agglomération started looking at solutions to this problem in 2019 to reinsert these materials into a circular economy.
In 2020 the Coopération Maritime launched their RECYPECH project, which has for aim to optimize the disposable and treatment of waste caused by the industrial fishing sector.
By adhering to the former, Guingamp-Paimpol Agglomération, with the support of the CCI des Côtes d'Armor and Lannion Trégor Agglomération is starting the collection of these used fishing nets on its territory.
Disassembling the fishing nets
These worn out fishing nets are treated by ESATCO at Plourivo, a hub for handicapped workers.
Having previous experience at their hub on Oléron island, collecting and dismantling used fishing nets, USAT CO will be seperating the different components of the nets (metal rings, ropes / selvedge, nylon nets).
These different components are then shipped to their appropriate recycling sectors.
The creationg of a pure material
The seperated nylon nets (polyamide-6) are sent to Fil&Fab who are based at Plougonvelin on the western Breton coast.
Fil&Fab, specializes since 2015 in the transformation of used fishing nets on the west coast into pure plastic pellets.
Creating a 3D printer filament
Nanovia will be using these pellets here in Louargat, where we will be transforming them into 3D printer filaments, expanding our range of recycled products.
This range will include two filaments (1.75 mm & 2.85 mm) coloured black.
The first, Nanovia PA-6 R, in natif nylon. And the second, Nanovia PA-6 CF R, a nylon filament reinforced with recycled carbon fibres from the aeronautical industry and fluid distribution.
These filaments will be commercially available end 2021.
To follow the development of these filaments, follow our news sections or our social networks.
Tags:
Nanovia PA-6-R
Categorised in: Products