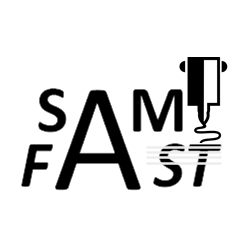 September 21, 2021
Named SAMFAST for SAMple FAST was created with the goal of creating cavity moulds in a fraction of the time using additive manufacturing compared to traditional methods ; using the materials developed and industrialized by Nanovia, in conjunction with Compositic and the LTEN.
At the initiative of CERO, in order to reduce the time it take to create injection moulds, the group Albatros and EMC2 brought together the different actors in Samfast
Launched the 14th of September 2021 the project is expected to take 2 years finishing end 2023
Acteurs :
---
Cero
Plastic injection specialist in Vendée, France.
Objectif : Testing and observation of the mould properties.
---
Nanovia
Production and development of thermoplastics for FDM fabrication.
Objectif : Development and industrialisation technical materials for the additive fabrication of moulds.
---
Compositic
Technical research platform attached to the Southern Brittany University (UBS) near Lorient, France
Objectif : Development on a laboratory scale of the technical materials for the creation of moulds.
---
LTEN : Laboratoire de Thermique et d'Energie de Nantes CNRS
Analysis and characterization laboratory specialized in thermal and mechanical properties.
Objectif : Thermal characterization of the developed material.
---
Support :
Oranization and creation of the project EMC2 & Albatros.
Nanovia tiens à remercier les financeurs du projet Nanovia would like to thank the financiers of Samfast:
Région bretagne – Guingamp Paimpol Agglomération – France relance – Lorient agglomération – BPI France
For more news projet Samfast, click here.
Tags:
samfast