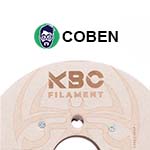 October 21, 2022
After a year of co-development with Tik Tok content creator Coben, the KBC filament range is finally available over at coben.shop, and soon on the nanovia.tech e-shop.
This new range is based on the Nanovia PLA EF, a high quality PLA that's certified without endocrine disruptors.
It is made using certified EU Plastics Régulation 10/2011 pellets.
The KBC filament range is currently available in 6 different colours.
• White 9010
• Black 9005
• Red 3024
• Yellow 1004
• Green 5021
• Purple 4006
Tags:
Coben en
Categorised in: Products