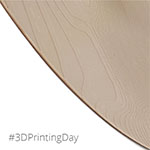 December 3, 2022
Today is the international 3D Printing Day. As a part of the industry for almost 10 years, we've witnessed its evolution and democratization.
We are now able to fulfill some of the most technical requests thanks to the development of new additives, fibres, and polymers able to withstand higher and higher temperatures.
These last years, we've seen the swift emergence of bio sourced plastics, properly biodegradable, beckoning the call for renewable resources.
The time gained and the development facilitated by additive manufacturing by industrials is beyond any doubt, and will continue increasing thanks to progressively more accessible and specialized materials.
At Nanovia we strive to contribute to this evolution.
Categorised in: Articles