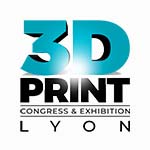 March 30, 2022
Nanovia will be at the 3D Print exhibition, April 5th till 7th in Lyon.
If you wish to meet one of our team members present at the exhibition you can contact us and we will arrange a meeting.
We hope to be able to meet you there.
For more information on the 3D Print exhibition : https://www.3dprint-exhibition.com/
Categorised in: Events