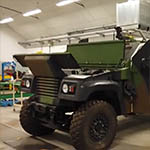 November 16, 2020
In this third installment of Makershop's mini series at the military school in Bourges, France, the brigadier general Baldi elaborates on the use of 3D printing with repairs.
A shock absorber ring printed using Nanovia's PETG CF: carbon fibre for their small armoured vehicles is used as an example. One of the three vehicles equipped with this part already having done over 6200km in Mali.
Click here to see all the videos of this series.
Tags:
French land force
,
Nanovia PETG CF