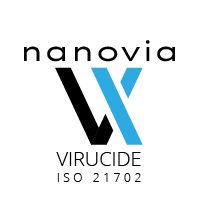 December 1, 2020
With the support of Région Bretagne and Compositic, Nanovia announces its range of virucide 3D filaments for the additive fabrication industry.
Nanovia VX's innovative formula (patent pending) has been developed to halt the spread of viruses, this new range of products has been certified virucidal using the ISO 21702 norm on the H1N1 virus, whose structure is similar to the Covid 19 virus (shell virus).
The test realized by an independent laboratory, confirm the extermination of 98.9% of the virus after 2 hours, and 99.99% after 4 hours post contact.
Nanovia VX product range:
Nanovia PLA VX :print daily use object that have frequent contact with ease (door handles, buttons…) read more
Flex VX : print flexible products (shock absorbing, soles…)
PEI VX : technical filaments designed for medial and paramedical use, resistant to high temperatures
The Nanovia VX product range is also available in pellet form for plastic injection.
You can follow the availability and development of the Nanovia VX range by subscribing to our newsletter.
---
Nanovia is a French 3D filament manufacturer, based at Louargat in the Côtes d'Armor.
Créated in 2014, Nanovia specializes in the development and manufacturing of technical composite 3D filaments.
Nanovia main partners are focused in the aeronautic, automotive, and defence industries.
Categorised in: Products