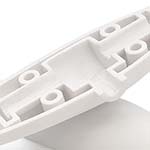 December 15, 2022
Nanovia PETG GF is a FFF filament suitable for the production of structural and technical objects for outdoor applications. Water and temperature resistant up to 80 °C, it's enriched with UV resistant additives.
Its glass fibre reinforced matrix makes it 40% more resistant than native PETG. These glass fibers, in addition to facilitating the 3D printing process, also increase part rigidity.
Custom coloured versions of this filament are possible via quote with a MOQ of 25 kilos.
Nanovia PETG GF is also available in pellet form for 3D FGF printers.
For additionnel information : Nanovia PETG GF
Tags:
Nanovia PETG GF
Categorised in: Products