Description
Propriétés
3D Printing
Extrusion T°
190 – 210 °C
Plate T°
50 – 60 °C
Nozzle
> 0.4 mm
Printing Speed
20 – 60 mm/s
Diamètre
1.75 & 2.85 mm +/- 50µm
Linear weight
2.40 @ Ø 1.75 mm
6.90 @ Ø 2.85 mm
Colour
Black
Mechanical Properties
| | |
| --- | --- |
| Density | 1.24 g/cm3 (ASTM D792) |
| Young modulus | 2315 MPa (ASTM D638) |
| Break resistance | 50 MPa (ASTM D638) |
| Elong. at Break | 3.50 % (ASTM D638) |
| Charpy notched | 1.8 kj/m2 (ISO 179-1eU) |
Thermal Properties
Tg
54 °C
HDT
80 – 90°C 0.45MPa (66Psi)
Biological
| | |
| --- | --- |
| % elimination 2H | 98.7% (ISO 21702 |
| % elimination 4H | 99.9% (ISO 21702) |
| % elimination 8H | 99.9% (ISO 21702) |
Documentation
Download the technical chart
Print daily use objects with ease using Nanovia PLA VX, specially designed with additive fabrication in mind. This filament limits the spread and risks of biological contaminants, and is certified ISO 21702:2019
Nanovia PLA VX's virucidal properties allow the elimination of 98,7% and 99.9% of the H1N1 virus, respectively after a contact period of 2 and 4 hours.
Thanks to its radical action and safe for skin contact, Nanovia PLA VX is perfectly suited for the fabrication of everyday usage items :
Protection of handles and rails in public transportation
Handles (doors, carts, windows, training and sport equipment…)
Communal home appliances (refrigerators, micro-waves, bin covers …)
Sanitary : flush button (WC), sink protection
Buttons (elevators, door bells, light switches…)
Protection reception areas
Consumer electronics : keyboards, computer mice, phone hulls
Pens, tables styluses
Virucide properties:
The virucide test has been conducted according to theISO 21702 norm by an independent laboratory in normalized conditions on the H1H1 Influenza virus
Elimination of the virus load on Nanovia PLA VX surfaces :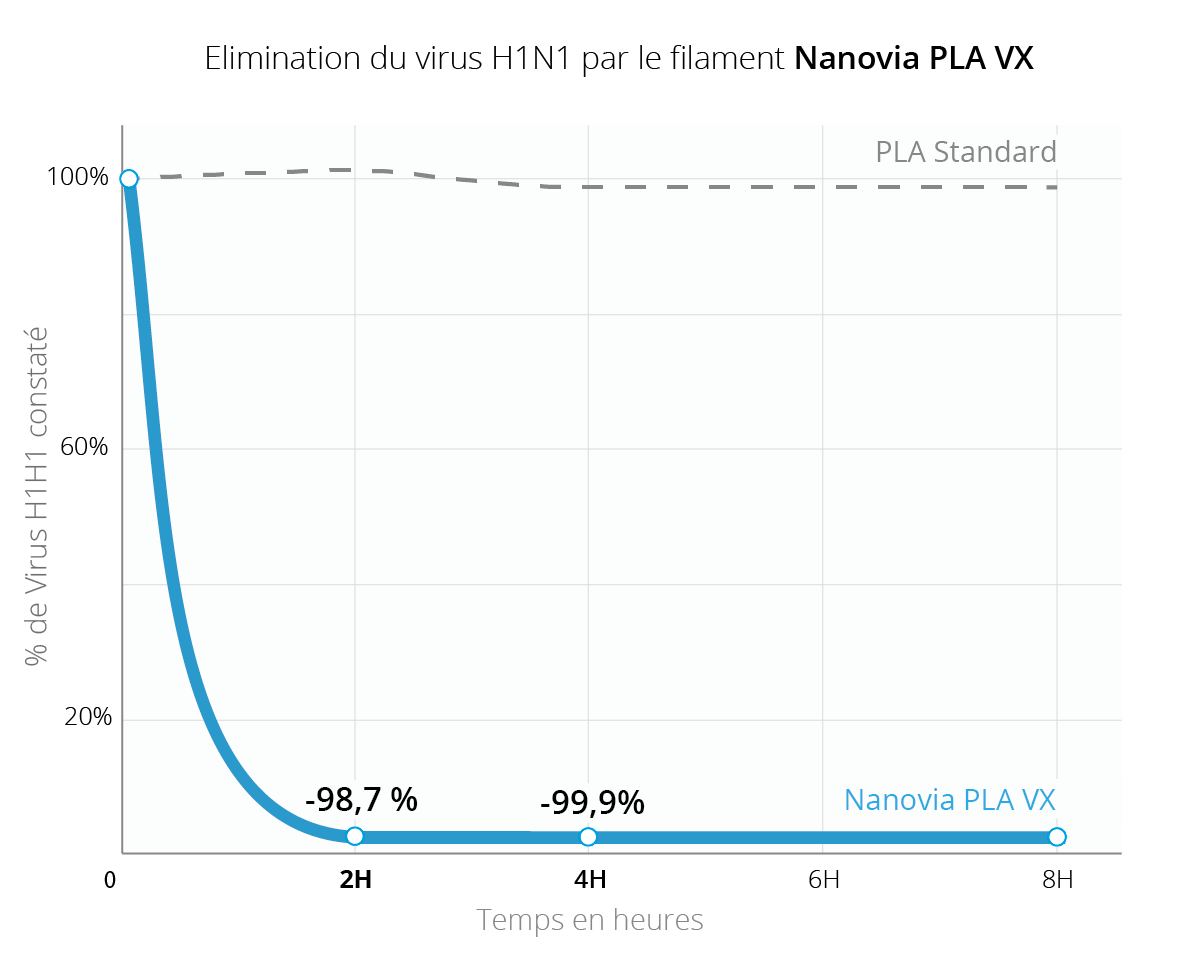 After 2 hours : 98.7%
After 4 hours : 99.9%
Long term efficiency
Avantages:
Certified Virucide norm ISO 21702 on influenza H1N1 (the H1N1 is a shell virus similar to COVID19)
No risk on contact
Auto decontamination/ prevents the formation of a biofilm
Easy to print
Food safe
Other formats
The Nanovia VX product range is composed of 3 types of 3D filaments, developed to limit the spread of infectious viruses:
PLA VX : print daily use objects with ease
Flex VX: flexible filament, shock and distortion absorbing (soles.…)
PEI VX : industrial application, medical and paramedical / resistant to high temperatures (200 C°)
These 3 formulas are also available in pellet form for plastic injection.
User photos
Application recommendations
Storage
We recommend stocking Nanovia ABS AF in a dry and dark location, if possible with a desiccant.
Impression
Nanovia PLA VX filament can be used on most commercially available 3D printers.
The filament should be extruded in a range of 190 à 210 ° C.
A heated bed is required (between 50 et 60 ° C)
Health and safety
Post treatment
Do not apply any paint or coating on pieces printed using Nanovia PLA VX, in order to conserve its virucide properties.
Use biocide products with precaution
Please refer to the safety sheet and the technical data sheet when using Nanovia PLA VX
ANSES N° : 20-07988
Packaging
Spools packed in individual boxes, sous-vide with desiccant. Product equipped with material traciblity and production series number.
| | | | | | |
| --- | --- | --- | --- | --- | --- |
| Spool | L1 | L2 | D1 | D2 | D3 |
| 500g | 55 | 45 | 200 | 105 | 52 |
| 2kg | 100 | 90 | 300 | 210 | 52 |
FAQ:
Est-ce que le Nanovia VX est certifié efficace contre la Covid-19 ?
À ce jour, il n'existe aucune certification virucide normée ISO validant une activité sur la Covid-19. Cependant, le virus Covid-19 est structurellement de la même famille que le virus H1N1. Le virus H1N1 est un virus à coque, tout comme la COVID-19.
La protection est-elle pérenne ?
Oui, la charge active du Nanovia VX est introduite à cœur du matériau, même après abrasion, la surface du matériau conserve son activité virucide. Veiller cependant à maintenir les surfaces exemptes de toutes pollutions et souillures.
Peut-on le couvrir avec un autre produit (vernis, peinture etc.…) ?
Non, il est impératif de laisser le matériau natif en surface, il ne doit pas être recouvert d'une couche de peinture ou de vernis. En effet, il doit être en contact direct avec les agents pathogènes pour que le matériau garde ses propriétés.
Est-ce vraiment efficace, Jérôme est sceptique…
Les tests biologiques ont été effectués dans le cadre de la norme ISO 21702 par un laboratoire certifié et indépendant. L'activité virucide de la gamme Nanovia VX est conforme aux normes européennes en vigueur.
Comment fonctionne l'agent virucide de la gamme Nanovia VX ?
L'actif biologique, sur base de complexes de cuivre, a été spécialement formulé pour s'incorporer aux matériaux de la gamme NANOVIA VX. Nos formulations brevetées assurent ainsi une dispersion homogène des agents décontaminants ainsi qu'une parfaite stabilité dans le temps.
Les actifs virucides agissent par catalyse provoquant une dégradation des parois virales.
Pour rester informé sur les certifications en cours du Nanovia VX, suivez nos actualités ou inscrivez-vous directement sur notre newsletter.